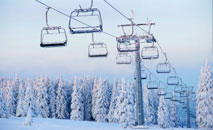 Titan Wire & Cable is proud to supply the Ski Industry with a full spectrum of products for various applications relating to snow making equipment, ski lifts, derailment systems and buildings to name a few.  The professionals in the ski industry require special products and hold extremely high standards in the materials they purchase to promote patron safety and reliability due to harsh environments and extreme exposure to the elements.
Titan is pleased to supply the Ski Industry with the following high quality products;
Comm-Lines
Fiber Optic Cables
Building Wire
Control Cables
Sound Powered Telephone Systems
Pole Line Hardware
Splice Enclosures & Tools
We also carry specialty silicone cable (PUR) for the derailment system for lift towers.
Titan is the only company in the US which can provide Comm-Line with 3/8" steel messenger in pair counts of 12pr, 25pr, 37pr, 50pr in gauge sizes 22 & 19.  We carry ¼" messengers in the same pair counts.  We can also provide Figure-8 Fiber Optic Cables with a 3/8" messenger.
In addition, we do many projects at various Ski Resorts within Information Technology (IT) Departments, such as;
Category Cables (Cat5 and Cat6)
Fiber Optic
Patch Panels
Patch Cords
Cabinets
Connectivity
Racks and Enclosures
If you are in the market for high quality, reliable products at some of the most competitive pricing in the market, contact one of our knowledgeable representatives for additional information today!