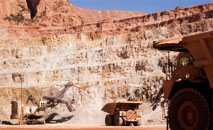 Anyone outside of the mining community might be awed by the contribution this industry makes to our modern way of life.
From products as fundamental as home building materials to the technology of space exploration, none would be possible without mining the earth's elements!
Titan Wire & Cable supports this industry with:
5-25KV Drag Line (SHD-GC)
600-2KV Portable Power (DLO, G-GC & Type W)
300V & 600V Portable Cord (SOOW, SEOW & SJOW)
Festoon, Pendent & Reel (Flat & Round)
5-25KV Mine Feeder (MPF-GC)
Process Power & Control (Armored, Teck 90 & Tray)
Instrumentation (300V, 600V, Armored, Teck 90 & Tray)
Stationary Medium Voltage (MV90 & MV105)
600V-15KV Pump Cables (Flat or Round and Armored or Non-armored)
Variable Frequency Drive (Armored & Non-armored)
Fiber Optic (MSHA Approved)
Data Highway (Armored & Non-armored)
Grounding (Bare & Tinned)
Lightning Protection
Titan Wire & Cable takes pride in knowing the products used by and the needs specific to mining and can help with special applications.